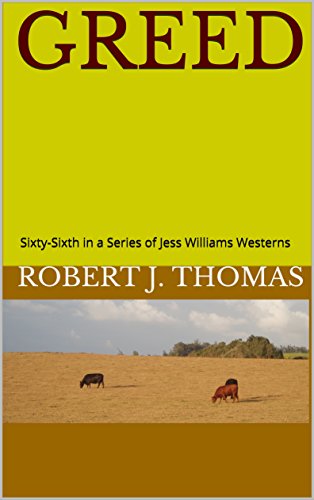 GREED: Sixty-Sixth in a Series of Jess Williams Westerns
Jess is on the hunt for another wanton killer by the name of Ty Fulton. Along the way, he comes across an old man, his daughter, and granddaughter. They were on their way to a town called Carrington to start a new business. Jess camps at their site, but the old man passes away during the night.
Not wanting to leave a woman and her young daughter riding the trail alone, he decides to escort them to their destination safely. Luckily, he ends up finding his wanted man while doing so. He's ready to head back out on the hunt for the next man on his list, but a call from the United States Marshal Frank Reedy makes him change course.
He heads to a town called Arville to meet with John Bodine. Jess has to pin his federal badge on again and join Bodine on a special assignment. A man rich enough to buy the entire state of Texas wants an entire town under his thumb, but Jess and Bodine have other ideas.
Blood is spilled and graves are filled as a struggle ensues between them and a rich and powerful man.
---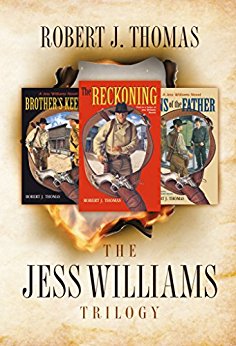 Also now available the Jess Williams Trilogy.
From the Author… Offered for the first time ever comes the Jess Williams Western Trilogy that started it all. This trilogy will only be offered for a limited time in e-format. It includes the full copies of the first three books in the long-running series of Jess Williams adventures.
Note: If you have already purchased the first three books in the series, don't buy this unless you just want to add it to your collection. If you haven't read a Jess Williams western yet, this is the perfect time to get the first three books in their entirety. Hopefully, you will enjoy them and continue on with the rest of the series.
Description of the books in this Trilogy…
THE RECKONING starts out this western series with the adventures of Jess Williams. He is an ordinary young boy with a loving family growing up in Black Creek, Kansas. That all changes when he comes home and finds his family brutally murdered. Forced to become a man overnight, he vows to avenge his family's savage deaths.
He begins to practice with his pa's Colt .45 and then a stroke of destiny arrives when he discovers a new pistol and holster that mysteriously appears. Jess practices with it relentlessly until he becomes so quick that he is truly unbeatable on the draw. He leaves home transformed from a boy to a highly skilled shootist with no reason to live except to hunt down and kill each of the men responsible for the murders. As he begins his journey, he does so with a pistol and holster that no one has ever seen before—and won't again for almost one-hundred years.
In BROTHER'S KEEPER, Jess Williams returns home to Black Creek, Kansas, after hunting down and killing the three men who brutally murdered his family. When he arrives, he finds himself in the midst of a bloody war with Dick Carter and his hired guns. Carter wants revenge for the death of his only son, Red, and Jess is the one who did the killing. Jess's first job is to eliminate Carter and his hired guns and then finish his search for the brother he never knew he had.
SINS OF THE FATHER has Jess hunting down his real father, Eddie Sloan. After two years, he finally has him in his sight when a desperate call for help comes in from U.S. Marshal Frank Reedy. Jess answers the call for help and heads for Timber, Texas, and straight into a bloody range war between two cattle barons. Rance Madden and his hired guns have no idea of the trouble heading their way. Jess arrives and men start dying one by one. Madden begins to feel the grip of death at his throat—and Jess is slowly tightening the noose.