While Jess would like nothing more than a good long rest after successfully ridding Nebraska of a few vicious outlaws, fate has a way of stepping in to spoil his plans. He's met up with someone whose company he greatly enjoys, the beautiful but deadly female bounty hunter, Wildcat.
It seems Wildcat has something special in mind, but it doesn't rest. The usually wild and dangerous territory of New Mexico has gotten much worse and she needs Jess's help in cleaning out some of the worst gangs in the southern part of the region.
Jess, Wildcat, John Bodine and Shadow all head to the southern part of New Mexico Territory. The only one not wearing a Deputy United States Marshals badge is the timber wolf, Shadow.
The gangs of murderous outlaws who have fled from neighboring states to elude the law have no idea of the trouble heading their way. The killers are about to be treated like they've been treating their victims…with ruthless and deadly force.

---
Jess is on the hunt for the vicious Van McLarty and once he puts him down, he takes the body into the town of Palmdale, Texas, where he runs into a very disagreeable county sheriff and the Corker clan. It seems the Corker men think they run things around their area, including the county sheriff.
After his run-in with three of the Corker men, the leader of the group, Hagar Corker, declares war on Jess and the town of Palmdale. The county sheriff rides out of Palmdale and leaves Jess to handle the clan by himself. Lead flies and blood is spilt before a truce can be agreed upon.
After leaving Palmdale, Jess finds himself being held against his will on a moving train owned by a wealthy man by the name of John Roscoe. He offers $100,000.00 to the gunslinger who can take Jess in a duel. The train snakes its way through Texas, New Mexico Territory, Louisiana, Mississippi, Missouri, and Ohio, where Jess faces some of the deadliest gunfighters no one ever knew existed. His last challenge is with Roscoe, but Roscoe doesn't play fair.
After teaching Roscoe a lesson, Jess heads to Stratton, Texas for a quick visit, but Reedy has a deadly job waiting for him. One that requires his special set of skills. He has to hunt down a former Texas Ranger who is hiding in a huge forest, and he's an expert with a sniper rifle. To make matters worse, the Ranger has gone completely mad. Jess goes in, but will he come out?

After leaving Sister Nadine and the other two nuns at the convent in Oklahoma Territory, Jess is back doing what he does best. He crosses back into Texas and heads to the town of Hoover, where he finds the man he's hunting, Brian Reed.
While in Hoover, he meets a hired gun by the name of Vic Pardo. Pardo finds the man he was hired to kill and easily dispatches him to an early grave. Not having another job after that, he convinces Jess to let him ride along with him for a while to make some extra money. They make a good team and hunt down some stone-cold killers together.
Along the way, a fast draw expert from Boise, Idaho, confronts Jess. He wants to finish his unblemished career as an expert gunfighter by challenging Jess, but Jess quickly discovers that the gunfighter might love his whiskey more than his reputation.
Then comes Hell Town…

Jess is on his way back to Texas after ridding his hometown of Black Creek, Kansas, from drifters and troublemakers. While he makes his way back toward Texas, he finds himself hunting another killer. That leads him to a trading post, where he finds the man he's been looking for. He dispenses his cold justice on the killer and ends up staying the night there.
While there, he meets three nuns who are traveling to a convent in southwest Oklahoma Territory. They quickly share their opinion about what he does for a living, killing men for money. After he leaves the trading post, he finds the stagecoach carrying the nuns along the trail. The shotgun rider and driver have been murdered, and all the cash the nuns had been carrying to the convent has been stolen.
The nuns are alive and well, but now they inform him that he has been chosen to escort them to the convent and get their money back from the robbers. He refuses but offers to help them to the next town, but they insist on him taking them all the way to the convent.
He finds himself in a strange predicament when his horses refuse to leave the nuns. He drives the stagecoach to the next town and again attempts to leave them, but his horses seem to have a mind of their own.
Reluctantly, he submits himself to doing what they insist he must. The trip along the way is a strange one indeed. Things that go unexplained keep happening and Jess wonders who is really running things, him, the nuns, or someone else. Order your new book today!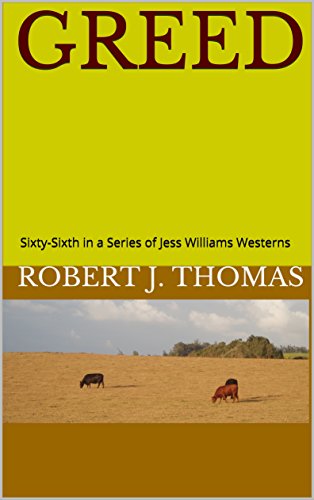 GREED: Sixty-Sixth in a Series of Jess Williams Westerns
Jess is on the hunt for another wanton killer by the name of Ty Fulton. Along the way, he comes across an old man, his daughter, and granddaughter. They were on their way to a town called Carrington to start a new business. Jess camps at their site, but the old man passes away during the night.
Not wanting to leave a woman and her young daughter riding the trail alone, he decides to escort them to their destination safely. Luckily, he ends up finding his wanted man while doing so. He's ready to head back out on the hunt for the next man on his list, but a call from the United States Marshal Frank Reedy makes him change course.
He heads to a town called Arville to meet with John Bodine. Jess has to pin his federal badge on again and join Bodine on a special assignment. A man rich enough to buy the entire state of Texas wants an entire town under his thumb, but Jess and Bodine have other ideas.
Blood is spilled and graves are filled as a struggle ensues between them and a rich and powerful man.
---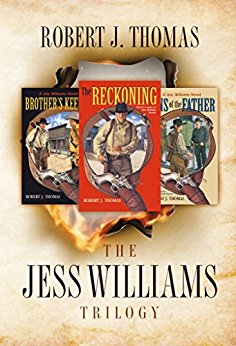 Also now available the Jess Williams Trilogy.
From the Author… Offered for the first time ever comes the Jess Williams Western Trilogy that started it all. This trilogy will only be offered for a limited time in e-format. It includes the full copies of the first three books in the long-running series of Jess Williams adventures.
Note: If you have already purchased the first three books in the series, don't buy this unless you just want to add it to your collection. If you haven't read a Jess Williams western yet, this is the perfect time to get the first three books in their entirety. Hopefully, you will enjoy them and continue on with the rest of the series.
Description of the books in this Trilogy…
THE RECKONING starts out this western series with the adventures of Jess Williams. He is an ordinary young boy with a loving family growing up in Black Creek, Kansas. That all changes when he comes home and finds his family brutally murdered. Forced to become a man overnight, he vows to avenge his family's savage deaths.
He begins to practice with his pa's Colt .45 and then a stroke of destiny arrives when he discovers a new pistol and holster that mysteriously appears. Jess practices with it relentlessly until he becomes so quick that he is truly unbeatable on the draw. He leaves home transformed from a boy to a highly skilled shootist with no reason to live except to hunt down and kill each of the men responsible for the murders. As he begins his journey, he does so with a pistol and holster that no one has ever seen before—and won't again for almost one-hundred years.
In BROTHER'S KEEPER, Jess Williams returns home to Black Creek, Kansas, after hunting down and killing the three men who brutally murdered his family. When he arrives, he finds himself in the midst of a bloody war with Dick Carter and his hired guns. Carter wants revenge for the death of his only son, Red, and Jess is the one who did the killing. Jess's first job is to eliminate Carter and his hired guns and then finish his search for the brother he never knew he had.
SINS OF THE FATHER has Jess hunting down his real father, Eddie Sloan. After two years, he finally has him in his sight when a desperate call for help comes in from U.S. Marshal Frank Reedy. Jess answers the call for help and heads for Timber, Texas, and straight into a bloody range war between two cattle barons. Rance Madden and his hired guns have no idea of the trouble heading their way. Jess arrives and men start dying one by one. Madden begins to feel the grip of death at his throat—and Jess is slowly tightening the noose.